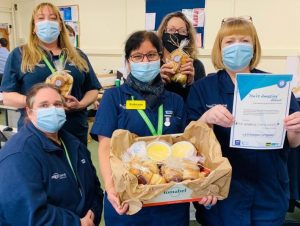 'You're Amazing' Award
This week's 'You're Amazing' Award recipient was not a single person but a group of people, who have supported many, many people in the Community.
We visited the Districted Nurses at the Leatherhead Hospital with a 'mountain' of  our Lavender Scones, Jam & Cream to let them know how 'Amazing' we think they are.  They have worked tirelessly in the community looking after not only those affected by the Covid pandemic but carrying on with all their normal duties.
A great big thank you to our District Nurses – You are Amazing.
If you would like to nominate your 'Amazing' person, you can
add your nomination in the comments below or email us via our
Contact Page