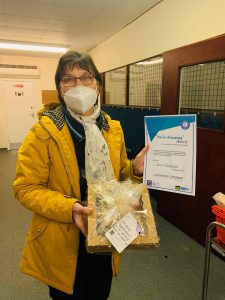 Congratulations to  Edna Woodhouse who is this week's recipient of the Lavender 'You're Amazing' Award.
Edna was nominated many times by people for her contribution to the local community.  She works tirelessly through her work with 'The Meeting Place', @themeetingplace.org.uk , as well as coordinating the Bookham Branch of Surrey Community Fridges, @midsurreycommunityfridges.co.uk.  Through her commitment Edna makes a huge difference to the lives of many, many people and we are so happy  to be able to present her with our treat box of homemade goodies.
If you would like to nominate an 'amazing' person for the contribution they make to the local community
you can do it via email, our website or our Facebook page.
Just tell us who you're amazing person is and why you think they will be announced on
Monday Morning on BBC Surrey Radio's Breakfast Show with Lesley McCabe. Good luck!