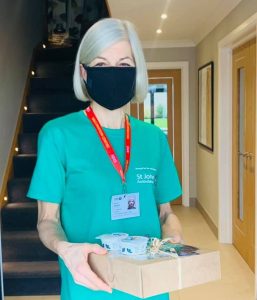 Congratulations to Penny Bedford, this week's 'You're Amazing' Award recipient.
Penny has worked tirelessly in the community throughout the Covid Pandemic and we agree she is such a worthy recipient of the 'You're Amazing' Award.   Penny's contributions have been numerous including
Being an active volunteer on the NHS responders app.
Working locally with the community kitchen to help deliver food parcels to individuals in need.
Volunteered her time queuing at the supermarkets to ensure the most vulnerable are able to get their essentials.
Continued to keep performing her volunteer duties as a Roaming Ranger for Polesden Lacy, including litter picking and ensuring the grounds are safe.
Has been accepted to administer the vaccine as a volunteer, scoring 100% in all the required tests and is looking to get to work helping to get the local population vaccinated.
What a super hero!
Nominate an amazing person in your community for their extraordinary contribution.
Add your nomination in the comments below
or visit our Facebook page and make your nomination in the most recent winners post comments.